EDIT: 11/18/09 Welcome KISW People! Yes, I did invent the lobster rage fist, and yes, that is me in the picture. If you've got an instructional diagram suggestion leave it in the comments. Below you will find the original article in it's entirety.
I found this little gem on the interwebs the other night, and it brought about some deep reflection.
At first I was stunned by the sheer absurdity of the situation, then I got to thinking. "Would I ever put myself in such a compromising situation with a crustation?" Sure, I might wear it as a juanty hat, or tape a one to my fist, and chase people in a drunken rage screaming "FEEL THE FURY OF MY LOBSTER FIST", but never, ever, would I consider something with claws and a tenacious will to live, to be a suitable cod-piece. I strongly believe it's a good idea to keep things with claws away from my genitalia. In fact, I would go so far as to say it is a new personal policy.
That being said, it's time for me to get on with taping lobsters to my fists.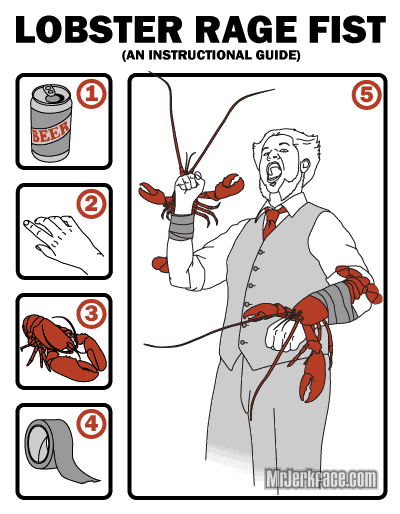 Beer seemed the best choice for any seafood based shenanigans. It's hard to work up a frothing fury with red wine, and if I had gone with tequila I'm afraid I would have ended up with a pinata taped to a lead pipe. Whiskey is considered an acceptable substitute, but is not recomended.

Open palm, or closed fist? You decide.
I would have to recomend the Maine Lobster, as they have the largest claws of any readily available store bought lobster. This makes them the "most pinchy-est" and therefore the only suitable choice.
Initially I planned to use glue rather than tape, but after consulting ThisToThat.com (Advice on just how to glue this to that) I decided the odds were slim I would find a good lobster glue that wasn't going to leave me permanantly scarred, and my lobster meat spoiled. Duct tape seems to be the next best bet.
Enjoy!